Blown Away By a Single Breath of Air!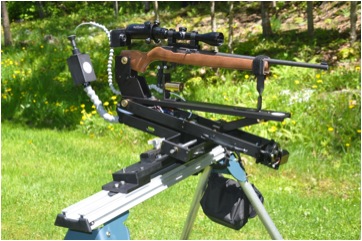 Moderate and severely disabled persons can now enjoy target practice and hunting with the Equalizer Adaptive Shooting System triggered using the DesignFlex PSF103 pressure switch.
Press Release / 6/01/2013

Equalizer Adaptive Shooting Systems LLC faced many challenges designing their revolutionary adaptive shooting system for moderate and severely disabled persons. One such challenge was a trigger system that allowed reliability and sensitive operation whilst remaining easy to use. With those factors in mind, the designer, Jeff Malloy created a simple air pressure system with technical assistance from World Magnetics Company's engineers. The perfect solution was achieved. Now with a simple puff into a straw, the operator is able to activate the trigger mechanism and fire the system reliably. The World Magnetics DesignFlex PSF103 Pressure Switch was chosen for this application due to the need for a durable, compact sensor which could switch a 12 volt power supply. Available in a wide selection of pressure ranges and port configurations, this proven pressure switch could be adapted to meet the Equalizer Adaptive Shooting System's exact needs.
Now individuals with different levels of disabilities can drive up to the Adaptive Shooting Bench, aim the firearm using an 8-way ultra sensitive joystick, and with a simple puff of air enjoy the pleasures of hunting or target shooting. For further information on the Equalizer Adaptive Shooting System or DesignFlex Pressure Switches by World Magnetics, please visit the links below:
Equalizer Adaptive Shooting System: www.equalizershootingsystem.com
DesignFlex Switches by World Magnetics: www.worldmagnetics.com
The World Magnetics DesignFlex PSF103 range of high-current pressure switches come in a variety of pressure ports, ranges and electrical configurations making this switch the ideal choice for this and other unique or challenging applications. If you have a pressure switch emergency, the World Magnetics Company would be happy to help you develop a solution!
The World Magnetics range of switches are US manufactured and are custom built in their facility in Traverse City, Michigan. With over 50 years of experience in the design, manufacture and supply of custom switches for Industrial, Medical, Aerospace & Military industries, World Magnetics company is the ideal choice to assist with all your Pressure, Vacuum and Differential pressure switch needs. Our passionate customer focus and complete end-to-end manufacturing capabilities provide many customer benefits, including simplified custom engineering; quick service; and high-quality, durable product solutions. For further information on the World Magnetics Range of switches or a free sample of what we have to offer, please visit: www.worldmagnetics.com or call the technical sales team at 231-946-3800.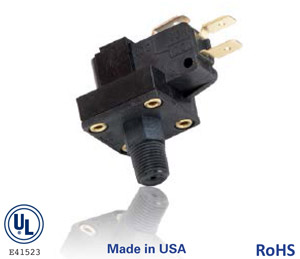 DesignFlex PSF103 used for
Sip and Puff type shooting device
World Magnetics
Web: www.worldmagnetics.com
E-mail: mpaul@worldmagnetics.com
Tel : 231 946 3800
Fax : 231 525 3156
Toll Free: 800 643 3384

World Magnetics DesignFlex Switches Press Release - June 2013
Written By: Martin Paul