Winning Sailing Performance with
DesignFlex Switches Enabled Sip-and-Puff Controls
Melvin Kinnear using the Sip and Puff system to fine tune his servo assisted Hansa Liberty sailing dinghy. The leading edge system is triggered using the DesignFlex PSF102 pressure switch.
Press Release / 06/29/2015
Towcester, United Kingdom
Variohm EuroSensor has recently supplied World Magnetics DesignFlex™ pressure switches for a customized Sip-and-Puff pressure switch system that allows quadriplegic World Champion sailor Melvin Kinnear increased control of his servo-assisted Hansa Liberty sailing dinghy. Developed by Paul Bennett – a volunteer for the charity Tideway Sailability - the single-crew dinghy features servomotor driven winches for its main and jib sails which are normally reeled out and fine-tuned by a combination of joystick control and separate hand operated switches.
As high level quadriplegic with limited touch sensation, Melvin finds it tricky to operate both sails together as he needs to keep switching between the two sails for race-performance fine tuning. As he cannot feel the switches he has to look away from the sails when operating them which is really bad news when racing.
The Sip-and-Puff system completely overrides the jib circuit allowing Melvin to have simultaneous control of the sails via the two different systems. By using the joystick to control the mainsail, he blows through the Sip-and-Puff to move the jib out and sucks if he wants the sail to come in.
The new control system has been extensively trialled at Tideway Sailability who sail at Surrey Docks in London - and the great news is that it has turned out to be really intuitive and made a real difference to Melvin Kinnear's sailing performance. He was the 2010 Liberty World Champion (Full Servo Class) and this year is lining up to sail in the European Championships at Rutland Water in July.
Variohm's technical support team helped the volunteers at Tideway Sailability with the simple circuit required to interact the PSF102 DesignFlex switches with the existing joystick system. The compact components are packaged in a small weatherproof housing that includes an integral membrane to allow for atmospheric pressure changes.
With a wide range of standard mounting and porting options, modular Designflex pressure switches by World Magnetics are widely used for mobility applications. Other areas for ultra-sensitive pressure, vacuum and differential pressure switching include medical and dental equipment, commercial appliances and HVAC; as well as use in demanding construction, agriculture, automotive, defense and eco-friendly equipment. The range covers pressure from 0.25 to 4137mbar (0.1" H20 to 60psi) offering long working life and high reliability with a choice polyurethane and Teflon diaphragms. Application specific options include field adjustable set point, controllable hysteresis for precise deadband setting, and factory calibrated versions for tamperproof use as well as full military spec' versions. For over 40 years, World Magnetics switches have offered reliable pressure measurement to the Industrial, Aerospace and Military industries.
High resolution images and full text available from: www.tacticalmarcomms.com
DesignFlex Switches by World Magnetics: www.worldmagnetics.com
About Tideway Sailability:
Tideway Sailability is a unique sailing club in central London where people with disabilities participate on equal terms to those without a disability.
As it is 100% run by volunteers, all money raised goes on the activities, premises and boats. Tideway have a large fleet of specialist and standard dinghies and dayboats available to members and groups of participants.
Membership is a community of people of all ages from 8 years old upwards with or without disabilities who sail together. Activities include sailing on the dock, Thames river trips and racing at other clubs throughout the UK. Tideway sails on Sundays throughout the year and on Wednesdays and Thursday in the summer from Wednesday 8th April 2015.
To sail with them, offer support as a volunteer or donate, please visit the website: www.tidewaysailability.org.uk
About DesignFlex / World Magnetics:
The World Magnetics DesignFlex PSF102 ultra-sensitive low-range pressure switches come in a variety of pressure ports, ranges and electrical configurations making this switch the ideal choice for this and other unique or challenging applications. If you have a pressure switch emergency, the World Magnetics Company would be happy to help you develop a solution!
The World Magnetics range of switches are US manufactured and are custom built in their facility in Traverse City, Michigan. With over 50 years of experience in the design, manufacture and supply of custom switches for Industrial, Medical, Aerospace & Military industries, World Magnetics company is the ideal choice to assist with all your Pressure, Vacuum and Differential pressure switch needs. Our passionate customer focus and complete end-to-end manufacturing capabilities provide many customer benefits, including simplified custom engineering; quick service; and high-quality, durable product solutions. For further information on the World Magnetics Range of switches or a free sample of what we have to offer, please visit: www.worldmagnetics.com or call the technical sales team at 231-946-3800.
DesignFlex PSF102 installed. Joystick controller and Tideway Sailability's Sip-and-Puff controller with the DesignFlex pressure switches fitted. Used by World Sailing Champion, Melvin Kinnear.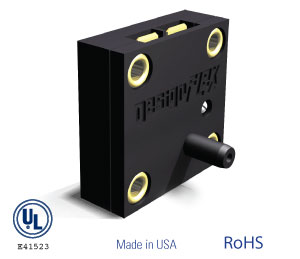 DesignFlex PSF102 used for
Sip-and-Puff control of Melivn Kinnear's servo-assisted Hansa Liberty sailing dinghy at Tideway Sailability, Surrrey Docks - London, England.
World Magnetics
Web: www.worldmagnetics.com
E-mail: mpaul@worldmagnetics.com
Tel : 231 946 3800
Fax : 231 525 3156
Toll Free: 800 643 3384

World Magnetics DesignFlex Switches
Press Release - June 2015
From: Martin Paul