Earl's Flying Services and World Magnetics Keep Things Growing!
Agricultural productivity is enhanced with Earl's Flying Services unique Aerial Spray Fertilization Notification System installed in their aircraft. The leading edge system is triggered using the DesignFlex PSF103 pressure switch.
Press Release / 10/01/2014
Steele, Missouri

For over 39 years, Earl's Flying Services has been providing the critically vital service of aerial fertilization for the farming industry. Contributing to farmland productivity is an important role, and one that Earl's has improved upon by offering a better way to determine when an airplane runs out of fertilizer. This leading edge vision and effort is the specific reason Earl's Flying Services contacted World Magnetics to discuss a new pressure switch requirement.
World Magnetics Company proposed the PSF103, the company's reliable, light weight, high current, pressure switch which can measure pressures down to 1" H20. For over 40 years, this switch has offered reliable pressure measurement to the Industrial, Aerospace and Military industries.
By utilizing the World Magnetics DesignFlex™ order configuration system, Earl's Flying Services was able to select the exact pressure port arrangement, diaphragm material, adjustment range and set point to meet their specific needs.
With this new pressure switch, Earl's Flying Services has been able to further improve their aircraft hopper empty notification system. For further information on World Magnetics PSF103 DesignFlex pressure switch or the services that Earl's Flying Services has to offer, please visit the links below:
Earl's Flying Services: www.earlsfs.com
DesignFlex Switches by World Magnetics: www.worldmagnetics.com
The World Magnetics DesignFlex PSF103 range of high-current pressure switches come in a variety of pressure ports, ranges and electrical configurations making this switch the ideal choice for this and other unique or challenging applications. If you have a pressure switch emergency, the World Magnetics Company would be happy to help you develop a solution!
The World Magnetics range of switches are US manufactured and are custom built in their facility in Traverse City, Michigan. With over 50 years of experience in the design, manufacture and supply of custom switches for Industrial, Medical, Aerospace & Military industries, World Magnetics company is the ideal choice to assist with all your Pressure, Vacuum and Differential pressure switch needs. Our passionate customer focus and complete end-to-end manufacturing capabilities provide many customer benefits, including simplified custom engineering; quick service; and high-quality, durable product solutions. For further information on the World Magnetics Range of switches or a free sample of what we have to offer, please visit: www.worldmagnetics.com or call the technical sales team at 231-946-3800.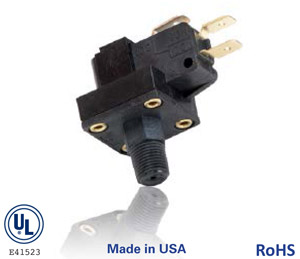 DesignFlex PSF103 used for Earl's Flying Services Aerial Fertilizer Notification System
World Magnetics
Web: www.worldmagnetics.com
E-mail: mpaul@worldmagnetics.com
Tel : 231 946 3800
Fax : 231 525 3156
Toll Free: 800 643 3384

World Magnetics DesignFlex Switches Press Release - October 2014
Written By: Martin Paul